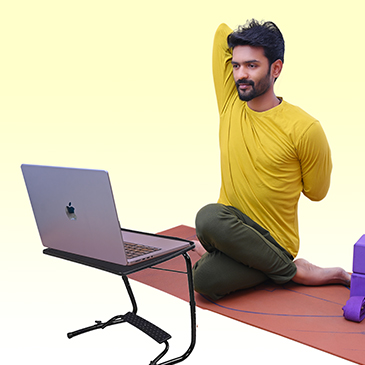 Yoga does not just change the way we see things, it transforms the person who sees
Are you looking to enhance your physical and mental well-being from the comfort of your home? We are here to guide you on a journey of self-discovery and transformation through the practice of yoga. Our online group yoga classes, are available Monday to Friday with different batch timings. We provide the perfect opportunity to align your mind, body, and spirit.
We understand the importance of balance in our hectic lives. That's why we offer online yoga classes designed to:
Cultivate Mindfulness: Our experienced instructors will guide you through each class, helping you focus your mind and reduce stress through mindful movement and breathwork.

For everyone: Whether you're a beginner or an experienced yogi, our classes are suitable for all levels. We offer modifications and variations to ensure everyone can participate and progress at their own pace.
Our Online Yoga Class Batches:
| BATCH TYPE | TIMING (IST) | DAYS | LEVELS |
| --- | --- | --- | --- |
| BATCH A | 05:00 AM - 06:00 AM | Mon - Fri | Perfect for Beginners. |
| BATCH D | 07:30 AM - 08:30 AM | Mon - Fri | Suitable for Intermediate to Advanced Practitioners. |
| BATCH E | 06:15 AM - 07:00 AM | Mon - Fri | Yoga for fertility with a diet plan. |
| BATCH F | 11:00 AM - 12:00 PM | Mon - Fri | PRENATAL YOGA, Perfect to start from 2nd trimester to delivery. |
What to Expect in Our Online Yoga Class:
In our online yoga class, you'll experience a unique fusion of yoga, Tai chi, pilates, and resistance band training that will leave you feeling rejuvenated and empowered. Here's what you can look forward to:
Flexibility: Learn how to deepen your stretches and enhance your range of motion. Say goodbye to stiffness and hello to a more flexible you.

Mobility: Improve joint mobility and reduce the risk of injury by incorporating dynamic movements into your practice.

Stability: Develop a strong and stable core while improving balance and coordination. Resistance bands add an extra layer of challenge to your stability work.

Strength: Build lean muscle and functional strength by engaging various muscle groups through resistance bands. Watch your body transform and become more resilient.
Join Us Today and Embrace Your Yoga Journey!
Are you ready to embark on a path of self-discovery, strength, and inner peace?
Join our online group yoga classes from Monday to Friday and experience the transformative power of yoga.
Take the first step towards a healthier, happier you!